Berlin Projects. Architectural Drawings 1920–1990
25.02. – 25.06.2017
Museum for Architectural Drawing, Berlin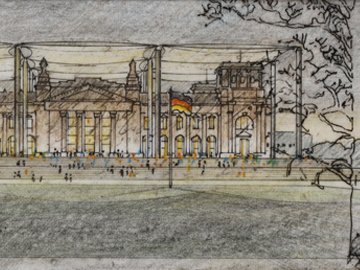 The exhibition Berlin Projects. Architectural Drawings 1920–1990 delves into an exciting period in the urban and architectural development of Berlin as rendered by Hans Scharoun, Hans Poelzig, Frei Otto, Gottfried Böhm, Zaha Hadid, Álvaro Siza and other famous architects whose drawings are part of the German Architecture Museum (DAM)'s collection in Frankfurt am Main.

The Reichstag plays a central role in the show represented by Gottfried Boehm's studies, drawings by Helmut Jacoby for Norman Foster and the wrapped parliament by Jeanne-Claude and Christo.

The exhibition also focuses on visions generated for the capital in the early 1990s for the competition 'Berlin morgen' (Berlin tomorrow) organised by Vittorio Magnano and the German Architecture Museum. Many renowned architects participated, including Bernard Tschumi, Mario Bellini and Manuel de Solà-Morales whose works feature here.
Image: © Deutsches Architekturmuseum, Frankfurt/Main