Children and Families
We are offering a program for our young visitors that through playful, creative and engaging activities, exposes children to the world of architecture and architectural drawing.
The material will be provided by the museum.
Advance registration required.
Registration:
+ 49 (0)30 43 73 90 90
During the changeover of exhibitions no workshops will take place.
Circles and Lines
Tuesdays and Thursdays: 10 am – 11.30 am
For families with children ages 3–8
Putting together colorful architecture themed puzzle, storytelling, and discovering forms by creating and taking shapes apart with building blocks.
For older kids, we will use color by numbers technique to explore the structure of the museum.
Duration: 1,5 hours
Fee: 1€/child
Drawing and Building – Children discover Architecture!
Tuesdays and Thursdays: 2 pm – 3.30 pm
For school kids (ages 9–18)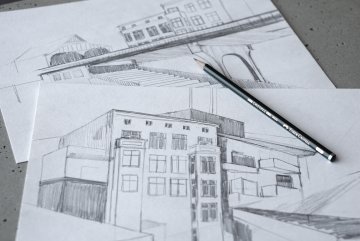 What is architecture? How is it created? What does an architect do? What is and what is not architecture?
With the introduction to history of architecture and a drawing and sketching workshop, the discovery of his or her own creativity will be promoted and an architectonic as well as spatial awareness conveyed.
Duration: 1,5 hours
Fee: 6€/child